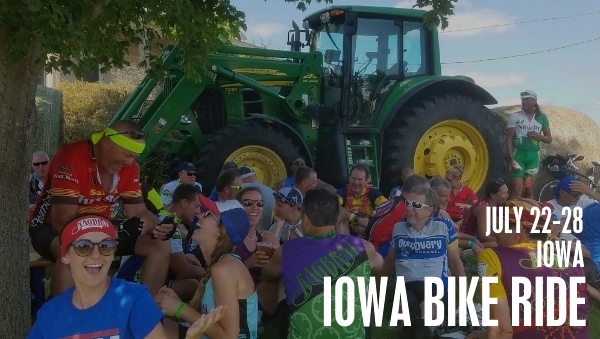 2018 State of Iowa
Bike Ride
Date: July 22nd - 28th
Location Day 1-7: Map

UPDATE: CRAWFORD COUNTY HAS PROPOSED LIFTING THE BAN TO ALLOW VENDORS IN UNINCORPORATED SECTIONS OF THE COUNTY AS OF MAY 15TH. THERE ARE STILL TWO MORE HEARINGS BEFORE IT PASSES. VENDORS WILL MORE THAN LIKELY BE REQUIRED TO SUBMIT THEIR LOCATION ALONG WITH A VENDOR FEE TO THE DENISON RAGBRAI COMITTEE FOR APPROVAL BEFORE BEING ALLOWED. THANK YOU TO THOSE THAT TOOK THE TIME TO SEND A LEVEL HEADED EMAIL TO THE BOARD OF SUPERVISORS THE LAST FEW DAYS. YOUR EMAILS AND COMMENTS ON THE MANY SOCIAL MEDIA THREADS HELPED THIS DECISION TO BE REVERSED. MONONA COUNTY STILL HAS A BAN IN PLACE AS OF THIS WRITING.

Thank you for taking the time to follow the link. If you ride RAGBRAI, you know how important the vendors along the route are to you each day. They are there to provide you shade, a quick drink, and/or something to satisfy your hunger.

While the cities provide you with some of the best hospitality, entertainment and fun there is to be had in Iowa, we know how much riders appreciate the amount of side stops in a famer's yard along the route each day. These stops provide something entirely different for you that you just cannot get in the towns. Who does not enjoy the opportunity along the route each day to stop at a beautiful Iowa farm with big shade trees and green grass beneath you while enjoying an Iowa Craft Beer in one hand and a skinless beef brat, homemade ice cream, pork chop, or sweet corn in the other? This is the reason many riders signup each year, for the fun along the route!

Requiring ALL vendors to be set-up within the city limits each day will cause additional crowd control issue that many towns are not equipped to handle. Long rides between towns on hot humid Iowa days does not sound like fun or a safe option for riders.

As many of you are aware, we ran into a few snags last year. We made the best of it, and most of you were on our side. We feared it would trickle down to more counties eventually, but did not anticipate the speed in which it would happen.

NOW is the time to let the following counties know how you feel about them passing NO vendors along the route. If we do not voice our concerns, this trend could continue to spread from county to county until vendors along the route are a thing of the past. It would be a shame to pass by those beautiful Iowa farms and not be allowed the opportunity to stop and enjoy the awesome shade, cold drinks and the wonderful food that Iowa has to show off!

RAGBRAIS response to this issue - Understand that we agree with most of this response.

Our "even longer" response - Sorry, we didnt mean for it to be this long, but we want to answer as many questions as we can on how and why this works the way it does.



MONONA COUNTY - DAY 1
First 26 miles of day 1
Reason for resolution - No reason given
Monona County Resolution - Day 1 - Passed May 1st - CLICK HERE Board of Supervisors can be reached at 1-712-433-1585 or via email at MoCoAud1@MononaCounty.org


CRAWFORD COUNTY - DAY 1 & 2
Last 18 miles of Day 1, and first 18 miles of Day 2
Reason for resolution - To control safety and well-being of the public
Crawford County PROPOSED Ordinance - Day 1 and 2 - CLICK HERE Board of Supervisor, Eric Skoog - Chairman, can be reached at 1-712-263-5356 or via email at eskoog@crawfordcounty.org